Best Spa Pool Movers Hamilton, New Zealand
When it comes to shifting from one location to another, it's crucial to handle your belongings with utmost care. This holds especially true for bulky items like a spa. If you and your family are planning to move your house or relocate your bathtub, Hamilton Movers Packers is here to provide you with the best assistance. Our dedicated cheap spa pool movers Hamilton consists of highly skilled professionals who prioritize customer satisfaction and strive to deliver top-notch service. With us, you can trust that your move will be handled with precision and care.
Once you reach out to us for spa moving Hamilton services, our dedicated team immediately inquires about the size of your spa tub. This crucial information allows our expert spa movers Hamilton team to devise the most suitable strategy for your specific needs. Rest assured; we take full responsibility for ensuring the safe and secure transportation of your bathtub to its desired destination.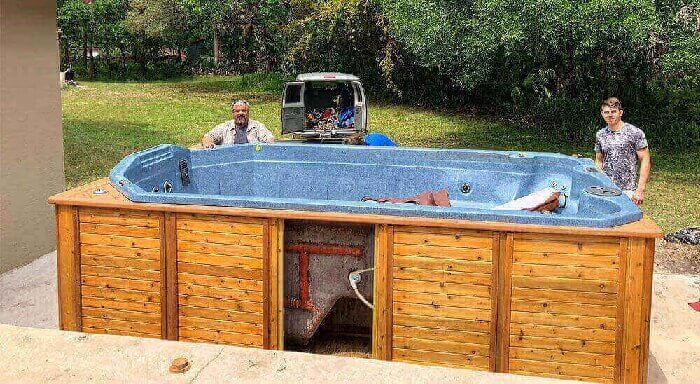 At Hamilton Movers Packers, we understand the significance of your belongings and the emotional attachment you may have to certain items. Whether it's cherished dolls, beloved books, or a precious spa pool/bathtub, we are committed to providing you with a flawless moving experience. With us, you can have peace of mind knowing that your hot tub will be handled with the utmost care and attention to detail. Our goal is to ensure that you don't miss a beat, including enjoying uninterrupted access to your spa or bathtub throughout the entire moving process.
Hamilton Movers Packers is one of the cheapest spa pool moving companies in Hamilton. We have been in the moving industry from the past 8 years and during this period we have gained experience and improved ourselves.
Why Moving A Spa Is A Difficult Task To Do?
We have seen people who are attached to their spa pool. Whenever they come back home, this is the place where they get to chill and have fun. They feel calm in a spa pool to relax their mind and body after a very long and hectic schedule. This is a possible reason why people emphasise spa pool moving. There is a reason why the spa pool is a little tricky to move from one place to another. They are pretty significant and also not mainly shaped. That's why it's getting difficult to move it alone or without proper professional help.
Hamilton Movers Packers specializes in spa moving service and boasts a dedicated team of spa removalists in Hamilton equipped with the necessary expertise and professional tools to handle the task effectively. Our spa movers Hamilton team recognize the significance of your spa, bathtub, or hot tub and understand your personal connection with these items. They are not merely objects; they are a part of your daily life, personalized to suit your preferences. As such, we take every precaution to ensure that your spa remains unaffected throughout the moving process. Our goal is to safeguard its integrity so that you can continue to enjoy its benefits without any interruptions.
It presents unique challenges, but we thrive on challenges and are committed to delivering the finest service to our valued customers. Our team of spa removalists in Hamilton is equipped with top-quality professional tools specifically designed for the safe and secure transportation of large items like spas.
At Hamilton Movers Packers, we have a dedicated team of specialists who possess in-depth knowledge and expertise in handling spa pool moves in Hamilton. They take complete responsibility for the entire process, including efficient packaging and ensuring proper safeguards are in place. With us by your side, you can rest assured that your spa pool will be safely transferred to its new location without any concerns.
You can place your trust in our hot tub movers Hamilton as we have successfully handled numerous hot tub or spa pool moves, and our team in Hamilton understands the intricacies involved in every aspect of the process. We take care of the packaging, organization, and logistics, allowing you to relax and have peace of mind. With our expertise and attention to detail, your spa will be in safe hands throughout the entire journey.
Why Are We Different From Other Bathtub Removalists In Hamilton?
Honest And Loyal Service: At Hamilton Movers Packers, we prioritize honesty and loyalty in our work. We are dedicated to providing transparent and trustworthy spa removal Hamilton services, ensuring that your spa pool move is handled with the utmost integrity.
Customer Satisfaction: Your satisfaction is our top priority. We listen to your needs and preferences and tailor our services accordingly. We aim to exceed your expectations and leave you completely satisfied with the spa moving experience.
Customized Approach: Our bathtub movers in Hamilton understand that every client is unique, and their requirements may vary. That's why we offer a personalized approach to meet your specific needs. Our spa removal Hamilton team works closely with you to understand your preferences and customize the moving process accordingly.
Time Management Expertise: We value the importance of time. Our spa movers Hamilton team is experienced in efficient time management, ensuring that your spa pool move is completed within the agreed-upon timeframe. We strive to minimize any disruption to your schedule and ensure a smooth and timely relocation.
Dedicated Service: Our policy focuses on one client at a time. You can expect our undivided attention and dedicated service when you choose us. Our Spa Removalists In Hamilton prioritize each client's project, ensuring a comprehensive and focused approach throughout the spa pool moving process
Quick Response: Hamilton Movers Packers understand that sometimes there is an urgent need for a swift move. Whether you have a time-sensitive requirement or an unexpected situation, we are well-equipped to handle last-minute removals and accommodate your spa moving service needs promptly and efficiently.
Experienced Professionals: Our team of cheap spa pool movers Hamilton consists of experienced professionals with expertise in spa moving. They are trained to handle all types of spa pools, ensuring proper handling, packaging, and transportation to your desired location.
Fully Insured: We prioritize the safety of your spa tub during transit. As a fully insured spa removalists in Hamilton, we provide added peace of mind, knowing that your valuable possession is protected against any unforeseen circumstances.
Affordable Rates: We understand that budget is an important consideration when it comes to moving your spa or bathtub. That's why we offer competitive and affordable rates for our spa moving services in Hamilton. Our pricing plans are designed to provide you with cost-effective solutions without compromising on the quality of our work. With Hamilton Movers Packers, you can enjoy professional spa pool moving services at a price that suits your budget.
Hire Our Professional Spa Movers In Hamilton!
To hire our professional spa movers in Hamilton, please use the following contact information:
Phone: 07808 0810
Email: info@hamiltonmoverspackers.co.nz
Feel free to reach out to us via phone or email to discuss your spa moving needs in Hamilton. Our team of experienced bathtub movers is ready to assist you in relocating your spa pool safely and efficiently. Whether you have a large or small spa tub, we have the expertise and equipment to handle the job with utmost care